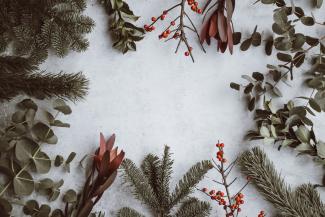 12 Days of FFG Holiday Cheer- 11th Day
11 Favorite Holiday Songs
On December 1st, Krista spent four hours curating the perfect Christmas playlist on Spotify. While watching Christmas movies may be a great way to get into the holiday spirit, listening to Christmas music is definitely the best—after you spend half the night making your playlist, of course. It's perfect to have on in the background while you're decorating your house and tree, wrapping presents, hosting a Christmas party or cooking and baking for the holidays. Luckily, Krista is not the only one at FFG that loves Christmas music, so here are 11 of our favorite Christmas songs:
1. Do They Know It's Christmas? - Band Aid
2. O Holy Night - Josh Groban or Jewel
3. Happy Xmas (War is Over) - John Lennon
4. Where Are You Christmas? - Faith Hill
5. Last Christmas - Wham!
6. All I Want For Christmas Is You - Mariah Carey
7. It's the Most Wonderful Time of the Year - Andy Williams
8. Sleigh Ride - Ronettes
9. I Believe in Father Christmas - Greg Lake
10. Frosty the Snowman - Cocteau Twins
11. I'll Be Home for Christmas - Demi Lovato
And because we just couldn't choose...
12. Merry Christmas, Happy Holidays - NSYNC
13. 2000 Miles - The Pretenders