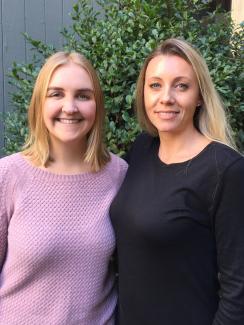 12 Days of FFG Holiday Cheer- 2nd Day
2 New Employees
2017 welcomed two new employees to FFG.
Krista                  
Krista is Wake Forest, North Carolina born and raised.  She went to school in Wilmington, NC, and spent some time living in Spain and England.  She received her MBA in December 2016 with a thesis focusing on social media strategies and celebrity brands.  Since graduation, she has been working in temporary positions, including at FIRST Financial Group as a part-time Office Assistant. She's actively searching for a full-time marketing role in a big city, preferably NYC or London! Krista loves the holiday season, from the weather to the fall/winter fashion to the decorations and just the general happiness and time with family and friends. Christmas Eve is her favorite part of the Christmas festivities, where she eats, exchanges gifts, sings carols with her very large, extended family and waits for Santa to come!
Natalie
Natalie hails from Cape Town, South Africa, bringing her expert compliance skills to the table when joining FIRST Financial Group in 2017. Natalie's favorite holiday of the year is Christmas, where she enjoys being surrounded by her family and close friends. Santa's little helpers, Natalie's granddaughters, Ali and Piper, are helping rein in the Christmas joy. Happy Holidays from my family to yours!