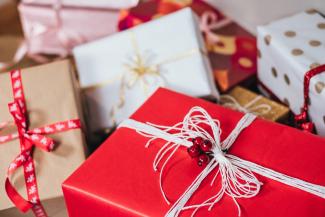 12 Days of FFG Holiday Cheer- 4th Day
4 Tips to Help Budget for the Holidays
As much as we love the holidays, they can get pretty costly.  The holidays should be a happy time, enjoyed with loved ones feeling grateful, not worried about the cost of Christmas.  So you may have the jolliest holiday season, we at FFG have some tips to help you budget your Christmas and cushion the blow to your wallet.
Determine what you can afford to spend. If you don't have the cash for it, don't buy it. This will avoid the January blues when all the bills start rolling in!
Start your shopping early in the year to spread out expenses. This will give you more time to look for sales and avoid extra shipping costs.  Look for deals online and in stores all week surrounding Black Friday.
Decide on price limit/range with family and friends. This will also save any embarrassment for spending too little or remorse for spending too much!
Limit the cost of food and gifts by making the holiday parties potluck.  Have each of your guests bring a dish to share and do an ornament exchange, Secret Santa, White Elephant or a Yankee Swap instead of buying gifts for everyone.