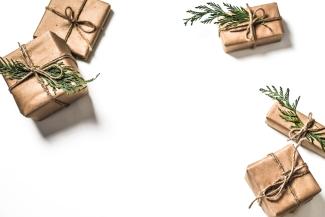 12 Days of FFG Holiday Cheer- 6th Day
6 Favorite Holiday Traditions
Krista:
"On Christmas Eve, my N.C. family all gets together to celebrate Christmas. Here, we eat and eat and eat before the Cousin Gift Swap. After the swap, we pass out my Grandma's old Christmas caroling books and our 12 Days of Christmas cue cards and get to singing. My favorite part is probably singing the 12 Days of Christmas because it always turns into a battle of which group/number can be the loudest."
Kurt:
"On Christmas Eve, we all gather around the fire where I read 'Twas the Night Before Christmas' to my family. When my dad is in town for Christmas, he reads the story instead and writes a special note for the kids in our copy of the book. We have been doing this since my oldest daughter, Isabelle, was born."
Debbie:
"One of my favorite parts of Christmas is Christmas morning.  After Santa has come and gifts have been exchanged, we all sit around the dining room table in our PJs, eating our traditional Christmas breakfast (cooked by yours truly): Eggs Benedict, a jumbo fruit salad and coffee cake (recipe coming on the 8th day of Holiday Cheer).  This year will be even more special since it will be the last time I will have all of my kids together for a while.  My oldest son, Christopher is moving to Chicago and my daughter Halle is heading to college."
Tommy:
"Christmas Eve is the big event in our family. After attending church services, we all gather at the Lewis home and feast on seafood, fresh vegetables and homemade pie. It is a special evening with my kids,  Ashley and Tommy, and the rest of my family."
Natalie:
"On Christmas Eve, our family has a traditional South African lamb feast with all the bells and whistles before heading to church for a candlelight service. After the service, each child opens one gift, and we gather in our cozy family room by the fireplace to read 'The Night Before Christmas.' This year, my two youngest children, Izzy and Charlie, have been invited to present a "living joy" reading at the Christmas Eve candlelight service."
FFG:
Every year we plan an office Christmas celebration. In years past, we have gone shopping, bowling, movies, etc. This year, today actually, the five of us are off to the Food Bank of Central & Eastern N.C. to volunteer our services for a great cause.