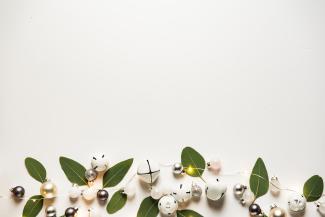 12 Days of FFG Holiday Cheer- 8th Day
8 Favorite Holiday Recipes
There's no denying that a big part of the holidays is the food.  So, the ladies at FIRST Financial Group have shared the recipes for some of their favorite dishes to make for loved ones during the holidays.
1. Oatmeal Pancakes w/ Banana-Walnut Syrup (Natalie): Click here for recipe
2. Sour Cream Coffee Cake (Debbie)
Ingredients:
Toppings:
½ cup of pecans
1tsp of cinnamon
½ cup of brown sugar
Cake:
½ cup of butter at room temperature
1 cup of sugar
2 cups of sifted flour
1tsp baking powder
3/4tsp baking soda
2 eggs
1/4tsp salt
1 cup of sour cream (1/2 pint)
1tsp of vanilla
Instructions:
Preheat oven at 350⁰
Cream butter, add sugar, eggs and vanilla – beat well
In a separate bowl, mix flour, salt, baking soda and baking powder together
Add mixture to creamed butter, alternating between adding mixture and sour cream
Pour ½ of batter in a greased pan
Mix toppings together
Pour ½ of topping in pan, on top of the batter
Add remaining batter
Add remaining topping
Place in oven and cook for 45 minutes
3. Milk Tart (Natalie): Click here for recipe
4. Sheehan Mac N Cheese (Krista)
Ingredients:
1lb of Velveeta cheese
1lb of Macaroni noodles
4tbsp of butter (and a bit extra to top later)
4tbsp of flour
4 cups of milk
Ritz Crackers
Instructions:
Melt 4tbsp of butter in a nonstick pot.
Add 4tbsp of flour and cook for 1-2 minutes on low heat, until the mix turns pasty.
Stir in 4 cups of milk, 1 cup at a time. As it thickens, add the next cup of milk.
Cut the 1lb of Velveeta cheese into squares. Add to the mix and stir 'til it melts and makes a sauce.
While making the sauce, boil 1lb of macaroni, according to instructions on the box.
Drain macaroni and add to the sauce. Stir to combine.
Add crushed Ritz crackers with a bit of melted butter to top. If you want, you can bake the mac n cheese at 350⁰ for 15 minutes, but we don't always.
5. Roasted Leg of Lamb (Natalie): Click here for recipe
6. Red Velvet Truffles (Krista)
Ingredients:
1 Red Velvet Cake mix (and ingredients according to box)
8oz (1 pack) Philadelphia Cream Cheese at room temperature
4 boxes of 56% cocoa, semi-sweet Bakers chocolate
Wax paper
Instructions:
Bake cake according to instructions on the box.
Let cake cool.
Crush cake into large bowl.
Add cream cheese and mix until you can no longer see any white cream cheese. You don't want someone biting into a truffle and seeing chunks of cream cheese. Feel free to add more cream cheese if you don't think the mix will roll into balls very easily. I've used up to 10oz of cream cheese before, depending on the brand of cake mix I used.
Form mix into 1" balls on a cookie sheet lined with wax paper. You'll need more than one cookie sheet. This recipe makes A LOT.
Melt chocolate according to instructions on the box.
Dip and gently roll balls into melted chocolate with a fork until completely covered. Move chocolate covered ball to cookie sheet, letting excess chocolate drip back into chocolate bowl. Repeat until all balls are covered in chocolate on the cookie sheets.
Refrigerate and let cool overnight. I usually keep these in the fridge so they stay cold and don't melt.       
7. Reece's PB Balls (Debbie)
Ingredients:
1 stick of margarine
2 cups of peanut butter
1lb confectioner's sugar
4 cups of Rice Krispies
2/3 block of Paraffin
12oz of chocolate chips
Instructions:
Melt the 1 stick of margarine and 2 cups of peanut butter together.
Add 1lb of confectioner's sugar and 4 cups on Rice Krispies to melted mix and mix together.
Form mixture into 1" balls.
Melt 2/3 block of Paraffin and 12oz of chocolate chips together.
Dip balls into chocolate and paraffin mixture, covering entirely.
Let cool.
Enjoy!
8. Impossibly Easy Banana Custard Pie (Natalie): Click here for recipe