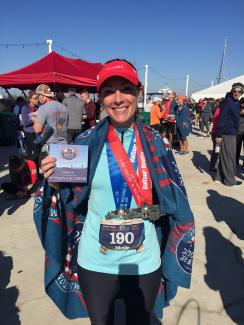 Wilmington Historic 5k & Half Marathon
Tommy, Debbie & Nicole ventured down to the coast to run the Wilmington Historic 5k & Half Marathon on December 7th.  Wes Pollard joined Tommy and Debbie in the 5k.  Nicole ran the Wilmington Historic Challenge, which consisted of running both the 5k and half marathon races.  Nicole left Wes, Tommy & Debbie in the dust and earned 1st place in her age group with a personal record of 23:52 in the 5k race.  The half marathon did not go so well for her, as she got injured in the middle of the race but pulled through and crossed the finish line at 2:27 with Tommy, Debbie & Wes to cheer her on.  
We are always looking for fun races to participate in and would love for our FFG clients to join us.  If you are interested, please call the office or send us an email.